Growth for people and companies - on a high performance level.
Our most important goal is to combine the experiences of the old working world with the dynamics and curiosity of the new world.
Who we are
SLBB was founded in 2001 by Stefan Lammers. In the meantime, we are more than 20 consultants.
Together, we work every day to help companies and their people from different industries, management levels and countries to develop their full potential. As consultants, coaches and sparring partners, we combine honest feedback with empathy to enable you to make the best decisions. We are as familiar with Dax corporations as we are with medium-sized companies and start-ups.
Golden Circle
In our work we follow the Why - How - What principle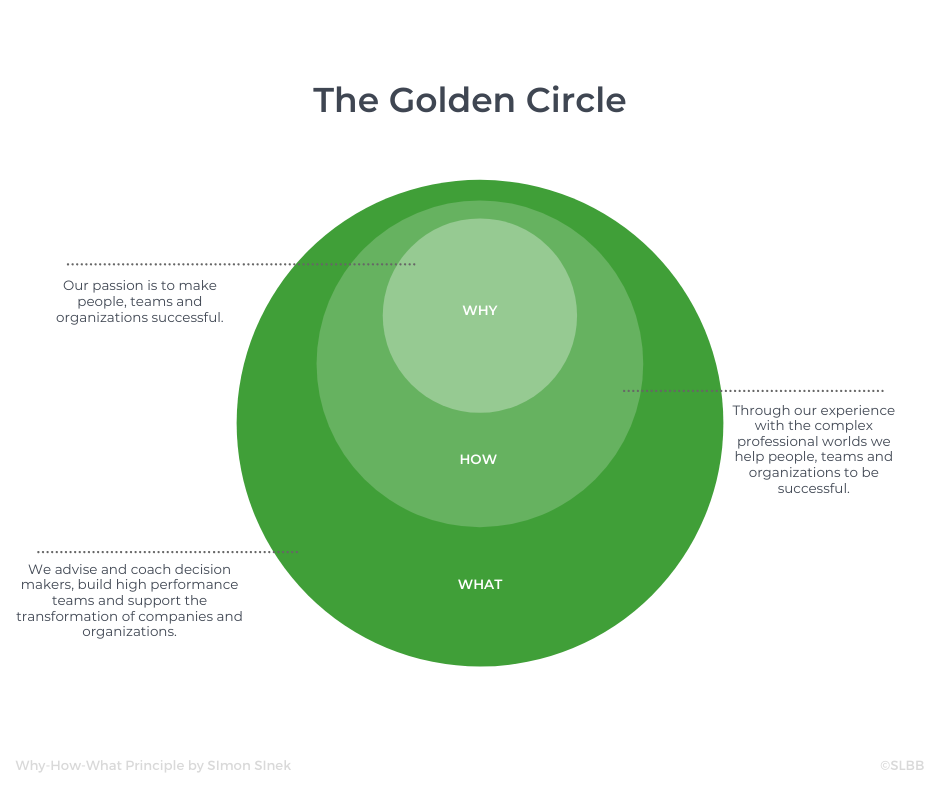 [Figure: Why-How-What Principle by Simon Sinek – © SLBB]
We always start with Why: Our goals and values
We always see the success of an organization in connection with the success of the individual.
It is therefore our goal that everyone can fully exploit their own potential through development. In doing so, we keep the focus on the big picture: The organization.
We know that only those who can lead themselves successfully are able to lead others. That is why we help executives to achieve more self-determination and autonomy - for themselves, their team and thus also for their company.
This increases the overall performance and innovative power. A consequently learning-oriented and motivating environment creates healthy growth for all sides.
With our own company and in every cooperation, we at SLBB always stand for authenticity, social competence and presence. Only in this way can we ensure that sustainable success is possible through responsible action.
How: Hyperawareness, self-management, mindset
In our work we are on the one hand concerned with professional knowledge. Only through the use of data and information and an eye for the big picture can informed and evidence-based decisions be made.
On the other hand, we concentrate on acting quickly, because speed often takes precedence over perfection.
In order to maintain this balance, a hyper-awareness is required. To constantly reflect and weigh up one's inner and outer environment in order to make appropriate decisions.
We not only live this way of thinking and acting in our own company, but also transmit it to our customers.
With a strong vision, a conscious own attitude as well as the courage to be modest and adaptable, independent leadership succeeds. The keys to sustainable success are successful self-management and the development of a conscious mindset.
What: High flexibility with highest quality
What we do, is executive and organizational development, accompany cultural change and work with change management. With the help of our selected personality diagnostics, we help you select the right people for your team and train your leadership personality. We also support start-up teams and start-ups for more clarity and success.
As consultants, we are called upon to develop strategies and advice to the best of our knowledge and belief and then actively implement them in the company.
As a coach, depending on the agreed situation, we are either the neutral sparring partner or the expert who does not evaluate things, but accompanies the coachee on his or her individual path of self-knowledge and growth.
In the joint work it is important that there is a clear reference to the working environment. Through our learning-by-doing methods our workshop is directly connected to the real working environment. Furthermore, there is always the possibility for virtual collaboration.
Quality is our highest demand. We evaluate every process to identify development potential. In order to maintain our quality in the long term, we invest in methodical and personal further training, which we complete in renowned institutes.
Honest and critical feedback confirms us: 100% of our interviewed customers certify that we work extremely professionally. 96% would recommend us to their best friend.
See here the results of our customer survey (only available in german)
What exactly is the Golden Circle? And how can you work more efficiently and successfully by using the Golden Circle? Stefan Lammers explains this to you in our High Performance Leadership Podcast
Mutual benefit entitlement
What you can expect from us...
As consultants we have many years of experience at top management level. We are honest with you, sometimes unsparingly open, we value each individual and stand by our opinion. We let processes and dynamics run where it is possible, and then pull the leadership to us when necessary. For us, emotion is at least as important as rationality, often even more so. We support you in climbing new leadership positions, in solving current problems as well as in reflection and personal maturation. At an early or late stage in our cooperation you will go home with an aha-experience.
What we expect from our clients...
Mutual clear feedback is extremely important to us, because only in this way can development take place in a common direction. That is why we expect openness and honesty from you as a customer.
The basis for a cooperation is the voluntariness, willingness and desire to experience progress - therefore you need courage for the process and trust in our working method.
You really want to change something yourself and want to take responsibility for your success?